MYSTIC DREAMSCAPES- THE ART OF BASIL ALKAZZI
BY GEORGE S. WHITTET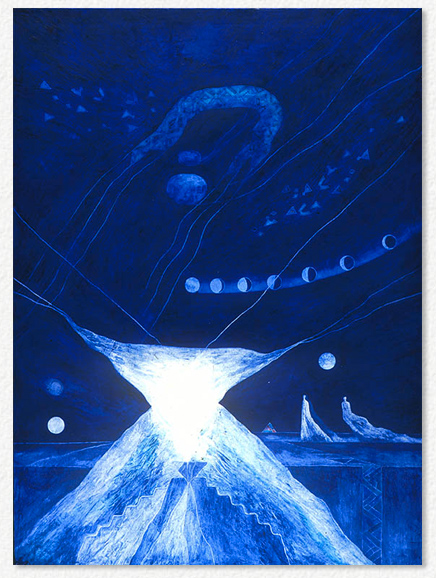 "And then when the moon rose there was a silence, and in that quietude I seemed to say a prayer, a wish, a hope, a dream, and as I looked up, and faced the brightness that shone upon me, within that moment, a fire-fly brushed its delicate wings across my brow, as if to soothe, to caress, to anoint, to bless me..." [1]
Basil Alkazzi is a rarity on the contemporary scene, a painter whose imagery induces reactions beyond the fashionable trends of clotted impasto and minimal content. Though socially selective and reserved, he has travelled most of his life not unlike in manner of his nomadic forebears.
In the Spring of 1976 he held his first one-man exhibition at the Drian Galleries in London presenting a collection in oils and coloured ink drawings that registered a highly convincing identity. Interiors and landscapes embodied a formal structure and intricate patterns. Pervasive colour moods set the key to the geometric repeats and reversals of the motifs. Works composed on grounds of vibrant blues and greens tracked their perspectives to infinity through arches of serene proportions, often to a central blue nave, its orbs suspended in cerulean space. Irrevocably committed to his art as an integral function in existing, Basil Alkazzi keeps a record of his thoughts and ideas; some of these epigrammatic notes I quote here. Besides tracing the direction of philosophical speculations, his written words often suggest titles for the paintings. Though they rarely precisely caption the pictures' imagery, none the less they reflect his awareness of life's mystic presences. Sensitive on the one hand to the occurrences of natural phenomena- dawns, storms, calm tides, rainbows– he seems to sense imminent happenings predestined in a distant past, evident in titles such as Transmutations in Time, A Dream Moment Awaiting the Moment, and Another Moment, Another Time, Another Season.

During the 1970s a covert element of mysticism invested the paintings, strongly evident in the 1977 exhibition. An extract from his dairy in 1976 reads: "To be born, as one is born, in the middle of the ocean, on the crest of waves, in the womb of the night, after midnight, to drift on, kissed by moonlight, towards a shore, a distant unknown port; to drift on, waiting for the dawn, to then be kissed by the sun; and the sea, and the waves are still there, and still no can the soul not kiss and embrace, as the sea does, so very many different shores? Was it, that the waters that embraced one's birth, now embrace and drift one towards shores of their choice, of their love, and so of my love?" [2]
In this phase Basil Alkazzi created a rich series of almost abstract parables where figures become formalised in interconnecting shapes of head, torso and legs clothed in triangular patches of green and blue. Overall the design is geometric with here and there the rhythms broken by arbitrary passages emphasising rather than detracting from the total unity. In others the figures may be reduced to nine or three in varied heights setting out on a path of parallels, crossing fields towards a horizon hung with moons like magic lanterns beneath a canopy blown upwards towards the sky.
From the late Seventies those hieratic constructions seemingly designed like abstract forms, seem to revert to more temporal settings. Architectural forms with their empty windows and open doors assume a new significance imbued with mystery and metaphysical intent.
"Houses are built upon the shadows of other houses, where their< previous forms co-exist with the present form. A past life co- exists with the present life, just as childhood co-exists with adulthood. A moment past still lives in memory within a moment now." [3]
By the early 1980s after an interlude engaged with the theme of lovers at much closer range as symbolic, earthbound and sculptural masses, he resumed his search for material resolution of inner subliminal compulsion. As he wrote: "There are times, certain moments, when I have the feeling that that certain time, certain moment, is the result of a promise given, long, long ago. There is always that feeling of great inevitability in it. And if there is such a thing as a pre- ordained pattern, pre-ordained promises, and there are many, many times when I am not so sure there isn't, then these certain times, certain moments, I accept these long, long ago given promises with wonder. ......A moment comes and then there is another, a dream comes and then there is another, a love comes and then there is another; but that moment, that dream, that love, having laid root, lives on in fossil, in essence, in< feeling, in spirit, in memory." [4]
This sensation is to be experienced in certain pictures, alive with suspended drama, where the prospect opens on the empty earth plane and where on the edges shadowy figures of humans and birds hold still. In some of these paintings the white buildings have the character of shrines; open doors frame vistas of landscapes almost surreal in their contrast of interior and exterior space.
Odilon Redon, French symbolist artist wrote: "Everything in art occurs by allowing the unconscious to emerge". Undoubtedly it is this inherited universal memory of mankind that responds to atavistic allusions in Basil Alkazzi's pictures rather than tracing predecessors in movements or performances in recent art history. His paintings represent the materialisation of poems in visual terms unwritten yet redolent of many remembered. Time and growth are instrumental in motivating his imagery.
"Nothing lives forever on a plane, and nothing dies, there is only a passing on, from one form to another, one sphere to another." [5]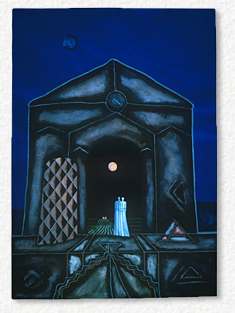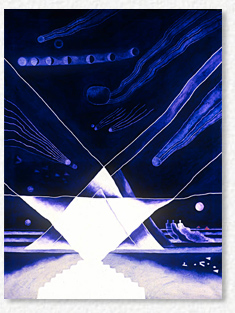 In his recent paintings from 1982 Basil Alkazzi reverts in subtly distinguished variations of the theme of lovers' meetings, partings, memories and hopes painted in diagrammatic silhouettes of ethereal figures, insubstantial personae of the drama taking place in and outside an isolated house-form, its white mass outlined against the deep ultramarine of the night sky.
An evocation of love as distinct from the erotic is followed by Basil Alkazzi in his personal style imaginatively fraught with the suspense of all intimate human relationships. Yet beyond its common interpretation "lovers" connotes a broader relationship with the world itself. For the artist,, all beings are lovers, lovers of God, of life itself in its myriad aspects, loving the Earth's continuous regeneration, loving even conflicting forces, enduring adversity and destruction with love. This subtly apparent spiritual atmosphere endows a unique character to Basil Alkazzi's paintings. Impossible to categorise in current painting idioms, his work typifies a very special approach expressed in a synthesis of graphic hatching on colour grounds of mood, carrying a surreal romantic aura as contemporary in feeling with cinematic visual imagery as with the printed word. Throughout we read the secret almost esoteric language of symbols, for shelter, a dwelling, a palace or a shrine to worship in, a haven secure in the blue immensity of space where alone or together stand shades of persons cloaked in vague anonymity who are perhaps known or departed or not yet met. In the artists diary his own speculations on life and his interpretation of its meaning carry his sense of its mystery and contradictions. In 1982 he wrote:
"As the moon rises, so it sets, and rises again; but the moment is not the same moment, nor is the sphere. And an artist too retreads the same path again and again, and sometimes yet again............One does not know if it is one's last. All one knows is that one will come back to it; but between now and then, there will be moonlit nights, sunny days, an eclipse or two, and more besides." [6]
The "more besides" the artist mentions came with the recent work of 1987 onwards. Here the shelter and solidity of architectural forms is gone and the lonely plane is a foreground only to the drama energising the sky above. The shadowy lovers are still there but more animated, their cloaks billow behind them as they traverse the middle distance and beyond, they are no longer merely silent witnesses, often they separate or are joined by others. Dominant colours are indigo and ultramarine in the background, the eternal night where comets streak in trajectories of satellites and the moon repeats its phases in its quest to total luminosity.
"....The moon, an image of man, has no luminosity of its own. It receives its luminosity from the sun. Man receives his from God, from the Universe." [7]
In the interlinked sequences each canvas projects its own aura of inscrutable significance. Here, dateless in its framework of time, the future casts its shadow as imprecise as that of the unrecorded past. Personal experiences bear no identifiable association. Images indescribable in words are more subtly potent for their subliminal suggestion. Mysticism has rarely been absent from Basil Alkazzi's paintings. They have no rational basis of creation but their necessity in the artist's soul. For the past fourteen years or so he has become increasingly involved in things metaphysical.
"It has been and is an exploration, discovery, and an expression of the self, of all that it is made up of and its development onto a higher plane....An artist reveals himself, his thoughts, by his work, to himself and for himself, and then others, perhaps, discover and see that self-discovery, that self- revelation in matter." [8]
Basil Alkazzi's paintings present intriguing aspects of his philosophy in the heart of his imagination. Lovers appear in almost all of his paintings. In the latest group where the atmosphere throbs with movement And Now it Comes, See How it Comes, the Seal of Love has the ever-present couple as shadow figures regarding the blinding illumination of a triangular hearth, central symbol of emotion in crescendo. Allegorical and rhapsodic in its detail, this composition with the others in the series compares in effect with the unified spectacular climax of an opera or symphony.
"A perfection of Spirituality is sought by the image of the Seal; the image of the Seal being the image of perfection of Spirituality. Where the spirit body with all the knowledge, love, and faith of this plane, lives in total and perfect harmony with the universal spiritual-entity of timeless moments, with all the knowledge, wisdom, love, and faith of that plane." [9]
As I wrote in my introduction to the catalogue of his first New York exhibition in January 1987: Because Basil Alkazzi does not easily slot into any of the facile categories so popular with modern art historians, he has not received the total respect he is due. Paradoxically for this reason as much as for any other I consider him to be of major importance. He cannot be ignored because his message is not so easily translatable into words. It is in his ultimate power that he creates a presence in visual terms capable of provoking both wonder and thought; he is the author of his own phenomena and as all authentic prophets do he establishes his own triumphant category.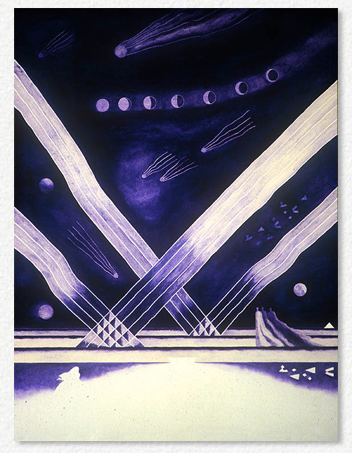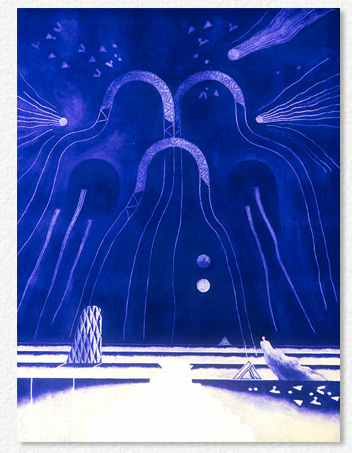 George S. Whittet 1989
EXTRACTS FROM A JOURNAL OF BASIL ALKAZZI:
1: 1988      2: 1976      3: 1980      4: 1982      5: 1983      6: 1982      7: 1969      8: 1984      9: 1984
MYSTIC DREAMSCAPES: THE ART OF BASIL ALKAZZI
A MUSEUM NECCA PUBLICATION, USA 1988
LIBRARY OF CONGRESS CATALOGUE CARD NO 88-62786
PRINTED BY THORNER-SIDNEY PRESS INC, BUFFALO, NY USA.